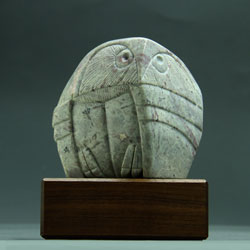 click owl for larger images
This owl is a recent favorite of mine, as she has a lot of character. I seldom give my opinion on my work as each of us sees an owl, differently. The photo may not show it, and the fact that I am a little colorblind may fool me, but I see a little mauve in this piece, also caused by the manganese. It is only carved on the front.
This owl is about 3.5" high, 4" wide and 4" deep. It sits on a walnut base, 4" x 3" x 1.5" high.


MADISON, WISCONSIN